I love to travel, but I hate flying. Especially with a tornrn muscle that makes walking next to impossible. Even more especially when American Airlines just couldn't seem to decide which plane we were going to take off in from Dallas. Better yet, which spot in the airport. They changed our gate – twice.
After damn near 24 hours of traveling, I'm happy to be home in South Florida. But I'm no less grateful to have had an enriching experience in Vancouver seeing Harry, the rest of the editors and all the experts in their element, and meeting many of you, our subscribers. It's given me a better idea of what you are all about.
We've grown our Economy & Markets subscriber base substantially, just in 2015 alone. It makes me think back to what Andrew Baxter said this past weekend at the conference.
He said: cash is like blood, and cash flow is like your bloodstream. Without it, you can't live. That might not be exactly how he said it, but you get the picture.
And that's what you, our subscribers, are like for us. You're our blood. Without you, we're nothing. That's why we hold this conference every year… so we can bring you solutions that YOU can use to protect your investments and assets, grow your profits, and make your business a booming success while all around you things fall apart. At the end of the day, it's all about you and your success.
So I'd say the 2015 Irrational Economic Summit achieved that goal…
Like I said, Andrew Baxter discussed the importance of cash flow. Erika Nolan discussed the importance of wealth solutions. Charles spoke about how to effectively allocate to your 401(k). Barry Potekin covered diversification. John pulled back the curtains on how to profit as companiesstumble into a bear market, as many already have.
We heard from Dr. Lacy Hunt on the characteristics of extremely over-indebted economies, and learnrned we are well on our way to becoming the next Japan.
David Stockman appeared via live stream, explaining how the Fed has transformed our economy into a gross deformation, a mutant freak of its former self.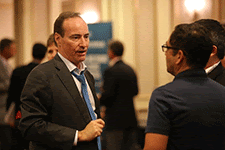 Harry told us about "The 5th Convergence" – a period in which all four of his key cycles point down, indicating a deflationary future. As Stockman answered in response to a subscriber's question, we're already in deflation.
Meanwhile, we have another GOP debate this week. Think they're going to talk about the economy? Maybe for a full five minutes! But it's doubtful they'll touch on the real issues. This was the subject of Rodney's presentation – what politicians SHOULD be talking about, but aren't.
That's our purpose at Dent Research – to bring to light the issues facing our economy and markets, and provide a variety of solutions that suit your preferences and risk tolerance.
At the Irrational Economic Summit, we sought to do just that. We jammed some 35 hours of information and insight into three days to give you a complete perspective of what we're facing and how to deal with it.
Now, we're already planning next year's conference! In 2016, we're hosting our fourth annual summit in West Palm Beach, FL. The event will be at the PGA National, October 20 to 22. Several of this year's speakers will be there, as will some new faces.
After that ridiculous five-hour layover in Dallas, I'm not complaining about next year's location. I live just south of there! And I know several of this weekend's attendees already plan on being there too. From Steve:
Thank you again for making the Irrational Economic Summit a very valuable and enjoyable experience for me. I will certainly attend again.
I hope you'll be there too.
For those of you who didn't make it out, it's not too late to order our IES 2015 On-Demand Recordings. You'll have lifetime access to the many great presentations and have their great insights available at your fingertips. You'll also get to see six of the workshops, and there's a special bonus report waiting for you.
Before I wrap up as your 2015 IES On-the-Ground Reporter, I want to say "thank you."
Thank you to all the people who worked so hard behind the scenes to make this event the success it was – Shannon Sands, our Publisher, Amanda Klein, our Event Coordinator, Megan Johnson, our Marketing Manager, Brandt Huseman, our Customer Services Relationship Manager, and all the supporting staff.
Thank you to Harry, Rodney, Adam, Charles, Ben, Lance, John and all the other experts who joined us in Vancouver to bring you the information and solutions you need now more than ever.
And thank you to YOU. Like I said earlier, without you we couldn't do what we love.
Until next year then, this is your IES 2015 On-the-Ground reporter signing off.
Chris Cimorelli
Managing Editor, Economy & Markets